Executive Decision Maker Pro

Professional decision making at your fingertips

Making decisions is a hard thing to do, so it seems to most of us. The creation of the original Executive Decision Maker has really relieved me of the most of the heavy duty mind-gymnastics and enabled exceptionally good results at incredible speed.

It is about time that others can join the club and be relieved of the heavy burden of decision making. Now you can with the Executive Decision Maker Pro. The Pro version comes as a kit, or for the really lazy, with an assembled PCB. The assembled unit is (WxLxH) 110x156x60mm in size.

Now you can join the club and have decisions made easy from trivial household decisions to multi-billion dollar Mega-Corp venture decisions and every management level in between1. The Executive Decision Maker Pro embeds an Intentional Synchronizer which, with the right expressed brainwave patterns, reads your mind at the subconscious level and automatically chooses the correct answer2.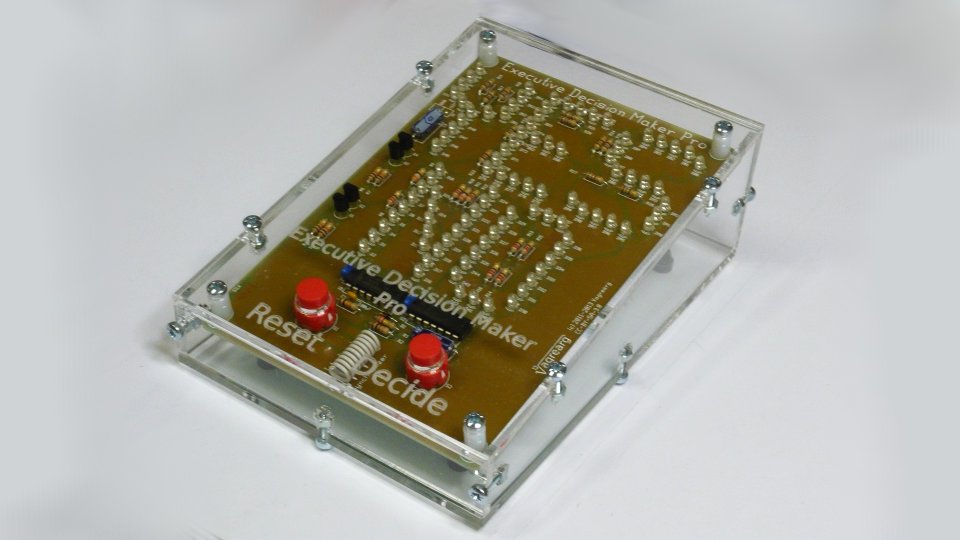 (Click to enlarge)

You can of course argue whether or not there is a need for such device. However, luckily, I consulted the prototype and was promptly rewarded with the right answers. There is a real need and the Pro version confirmed this once more.


Here I asked myself the questions:
"Is there a greater need for this device?":
"Is it silly for grown-ups to outsource decision making?":

Well, there is no clearer answer, isn't there...

The case is made of 3mm laser-cut and engraved Plexiglas. It is assembled using simple nut-and-bolt screw-connection and is very stable. A standard wall-wart power supply can be used (12V or 15V) with a round 2.1mm center-positive DC-plug.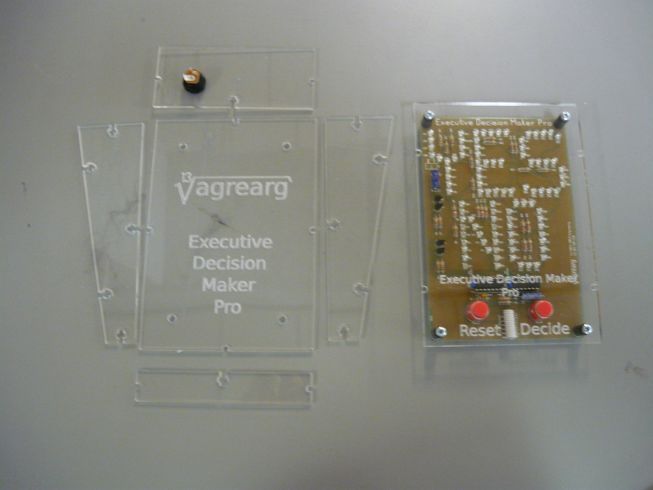 (Click to enlarge)

The whole design is, of course, open and all design files are available under CC-BY-SA-3.0:
An extensive (pdf) Assembly Guide describes the entire process of assembling your Executive Decision Maker Pro. It includes basic descriptions of all components used and shows in detail how the case is assembled.

The kit is made of:
PCB
Electronic components
DC entry connector
Cut and engraved Plexiglas case
Nuts and bolts for assembly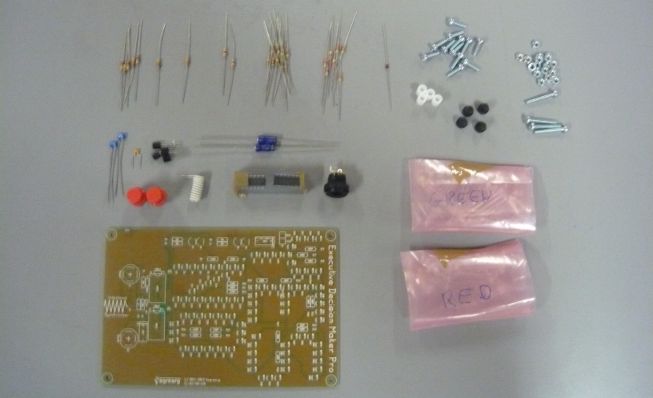 (Click to enlarge)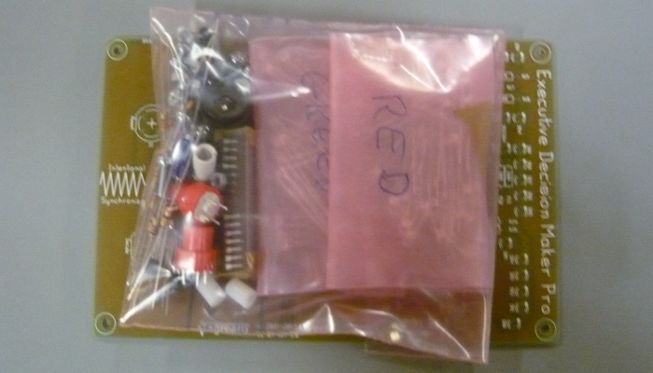 (Click to enlarge)

Not included is the external wall-wart power supply. It is not cost-effective to ship one across the world when you can get a dirt-cheap one at the local electronics pusher. You will need a minimum 12V/250mA or 15V/300mA DC output with a 5.5mm round DC connector, center positive, and 2.1mm center hole.
For example (US plug) amazon (12V/300mA) or (US plug) dealextreme (12V/1000mA) or (US plug) radio shack (12V/500mA) or (UK plug) RS UK (12V/300mA) or (EU plug) RS UK (12V/250mA) just to name a few. There are plenty of places where you can get them cheap. You may even find a usable power supply in your junk-box from older gadgets.


The Executive Decision Maker Pro features the Intentional Synchronizer. You are advised to set you mind to emit synchronize-able brainwave patterns before you push the decide button, such that the intentional synchronizer is able to feel the subconscious moods and ultimate goals.
Be careful what you wish for2, it might become true1 (YMMV).

Further use-cases that have been tested with substantial success (p=0.5):
Have your manager make at least 50% correct decisions; the perfect gift for the manager who passed the Peter Principle level of promotion.
Couple your computer with an antenna and finally find those darn Heisenbugs. You don't need to look at the code any more, just see your answer pop up when asking if the darn bug is in that line.
Make your kids assert their friendly relationships who they like and not, especially popular with 7..13 year olds.
Perfect procrastination3
Get confirmation how to proceed on that next project.
Need another beer? No problem, answer will be presented by a press of the button4.
Some more images...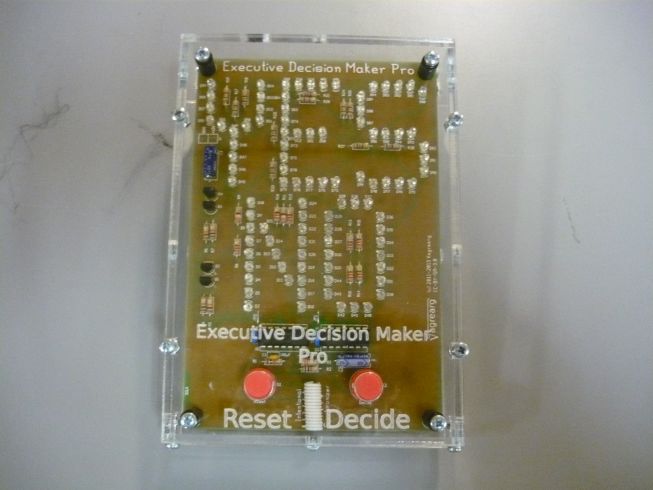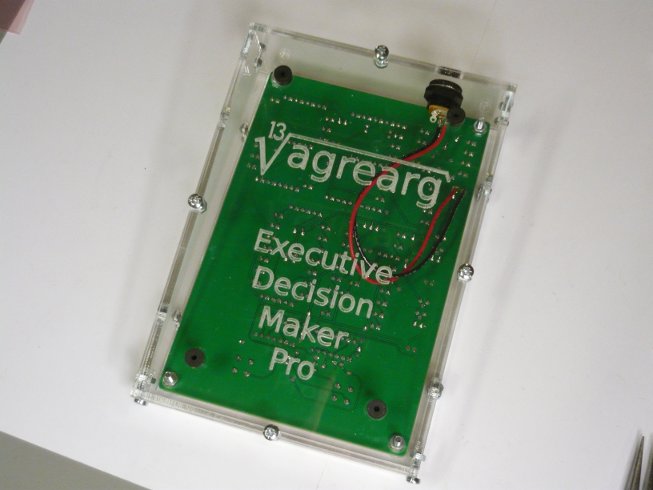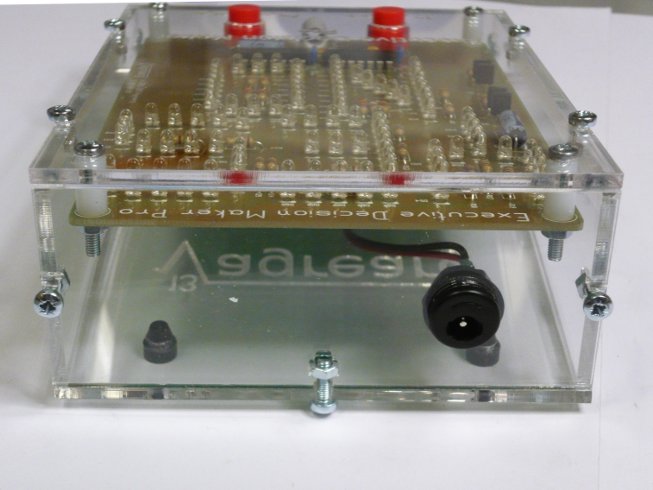 Notes:
Decisions and their consequences are the responsibility of those who execute them.
Some superstitious believes and retro-reasoning may be required for optimal effectiveness.
You definitely need to adjust your attitude and get bored once in a while
No really means no more beer for you. Alternative beverages may be ascertained by more presses of the Decide button. If you can't find the Decide button, then your answer is already manifested at the conscious level, although you may no longer be aware of any of that anyhow.
Posted: 2012-10-08
Updated: 2013-10-10